Internet Marketing
Name
Instructor
Course
Date
Question One
Introduction to International Paper
International Paper is the largest paper and pulp company in the world; it produces paper, packaging and forest products. The International Paper Company, established in 1889, is based in USA Tennessee. The company owns 12 million acres of forested land and has employed over 65000 people ("International Paper", 2018). The company's products include packaging solutions such as consumer packaging, industrial packaging, and printing papers. It is also the world leading producer of writing paper and bleached packaging board. The International Paper Company expanded in the southern United States in the 1920 and 1930 because trees could grow much faster there than in the north. In 1947 International Paper contributed to the World War 2 war efforts by developing nitrate pulp to make explosives as well as waterproof boards that were used to transport food and other necessities to the soldiers ("International Paper", 2018). International Paper started investing in research and development thus resulting in improvement of the product design. With improved technology during this decade, the company improved its manufacturing process. International Paper continued to emphasize on production efficiency as a means of getting an increased output. As a result, it led to more expansion of the paper company. To increase the profits, International Paper diversified with little success. Consequently, in the 1980s, International Paper started remodelling and changed its product focus, after which it started producing white papers. As a result, the company production cost decreased and began yielding more profits.
Current Business Operations
Pulp and paper making is one of the leading products manufactured by International Paper. The company uses the separated sugar and glue as fuel as well as forest residual as a source of renewable, carbon-neutral biomass energy. The company aims at reducing the use of fossil-based fuels. Therefore, International Paper tries to manage its energy use and increase energy efficiency as this reduces cost and protects the environment. International Paper has employed an efficient global supply chain operation management that ensures that customers get the products on time and at the lowest cost (D'heur, 2015). It uses the most efficient mode of transport to ship the products thereby meeting the expectations of customers. The International Paper Company aims at reducing the emission from its transportation.
Products and Services
International Paper's main product is paper. The company offers a wide variety of paper products to meet consumer needs. The renewable, recyclable and reusable material acts as raw material for the products. International paper produces printing papers for business and home use. Second, International Paper Company also manufactures industrial packaging (Lamberg, Ojala, Peltoniemi & Särkkä, 2012). The industrial packaging is designed to be cost-effective so that it can meet marketing and distribution requirements. Reliable packaging thus supports the supply chain needs. International Paper Company also produces corrugated packaging which is used for packaging products transported for long distance, or products that are of high value, showcases new technology and protects products that are of importance to human life (D'heur, 2015). The company provides practical innovation. Some of the corrugated products include paper bags, solid fibre, and bulk packaging. International Paper also manufactures cellulose fibres. The cellulose fibres include a range of absorbent fluff, special paper and paper pulp (Lamberg, Ojala, Peltoniemi & Särkkä, 2012). These products are produced globally. Thrive uses the cellulose fibre to make materials like plastics hard. The tissue pulp is used for a variety grade paper.
Apart from its manufactured products, International Paper Company offers consultation design services and innovation in order to put its customers in a better competitive position. The company also offers printing services in order to meet their customer's marketing needs. The company offers laboratory testing for the design package in use in order to improve their consumer's supply chain management (Lamberg, Ojala, Peltoniemi & Särkkä, 2012). International Paper also analyses its products using the total cost of ownership and customized cost optimization programs.
Current Business Model
International Paper has adopted a mass-market model that is characterized by very minimal differentiation among its customer groups. As such, any person or company that needs paper or packaging product forms a potential customer to International Paper ("International Paper", 2018). In terms of value propositions, risk reduction, accessibility, and status/brand form the basic value propositions for International Paper. Risk reduction is achieved by maintaining high safety standards that are fostered through corporate standards, annual plans, risk elimination, goal-setting and accountability, the creation of awareness and training. International Paper is the global leader in paper and pulp products. As a result of its global presence, International Paper has established itself as the most powerful brand in the world of paper and pulp. Additionally, International Paper is among the largest producers of sold bleached sulphate board globally. The status of the company has also been leapfrogged by the many honours that the company received in the course of its operations. For instance, the company was recognized as the "Most Honoured Company of 2015" in the Packaging and paper industry ("International Paper", 2018). In terms of channels, International Paper mainly uses resellers, agents, and paper distributors as its main channels. The company also participates in conferences in addition to promoting its products, though to a very little extent, through its website and social media pages. In terms of customer relationships, there is very little interaction between employees and customers. As earlier mentioned the main activities of International Paper revolve around the design, development, and manufacture of paper and packaging products. In terms of Partners, International Paper has mainly partnered with its suppliers for the provision of raw materials, services, and components needed for the manufacture of company products and in the management of company operations. Important materials and services required by International Paper include raw materials, fibre, capital and manufacturing services, MRO, corporate services, and transportation. Other important partners to International Paper include Corporate Eco Forum, the World Wildlife Fund (WWF), and the Dogwood Alliance ("International Paper", 2018). In terms of resources, International Paper possesses a variety of physical resources. These resources include its pulp, paper, and packaging mills; converting and packaging plants, bag facilities and recycling plants found in North America, Europe, Africa, Asia, South America, India and Latin America. International Paper also owns a research and development centre, some laboratories, a printing and packaging products distribution business as well as over 335,000 acres of forestland in Brazil ("International Paper", 2018). International Paper's cost structure emphasizes on reducing costs through the extensive use of low-price value propositions and automation. Lastly, International Paper's business model is only characterized by a single revenue stream. Precisely, International Paper's revenue is earned solely through the sale of packaging and paper products.
Reasons for not Engaging in Internet Marketing
The modern economic market is very complex. For businesses to succeed in the current complex market environment, business organizations must look for some ways of coping with the stiff competition. The exponential and continual advancement of technology also plays a big role in leveraging the nature of market competition. The increased proliferation of technology, in particular, the internet has been accompanied by a drastic shift in customer preferences (Roberts & Zahay, 2012). Today, most people prefer to search for and buy products online. The paradigm shift can be attributed to the increased convenience that is associated with internet marketing. Additionally, internet traffic has shown a tremendous growth in almost every corner of the world since the dawn of the 21st century (Siegel, 2006). For these reasons, the internet has become an appropriate platform to establish customer contact for any type of business or brand. Therefore, internet marketing (also known as online marketing) plays a strategic role in leveraging the success of any business. Precisely, internet marketing is a lucrative source of competitive advantage for business organizations in today's competitive and complex market environment (Roberts & Zahay, 2012).
One of the greatest reasons why businesses may engage in internet marketing is to increase business or brand visibility. The culture and lifestyle of people in today's modern world favour the dependency on the internet for almost all kinds of transactions (Roberts & Zahay, 2012). Therefore, by establishing a presence on the internet, potential customers can become increasingly aware of the business brand and products, consequently increasing the customer base of the business. Internet marketing – through social media marketing – makes it possible for businesses to make direct contact with potential and returning customers (Siegel, 2006). Establishing direct contact makes it easy for the business organization to share important information about product features. Direct contact also establishes and maintains customer loyalty. Ultimately, internet marketing enables a business organization to cope with stiff competition (Siegel, 2006). Business can take advantage of the large global market on the internet platform and outpace the numerous small and local businesses.
Despite all these and other advantages, International Paper has not engaged in internet marketing. First, International Paper is the largest paper industry in the world and has established itself as the best brand of papers in the entire world ("International Paper", 2018). Therefore, the company does not necessarily need to increase its brand visibility since it has already established a global presence. Second, International Paper already has an excellent customer base with very loyal customers. In fact, most multinational book and newspaper companies are primary customers of International Paper. With its already excellent customer base, the company does not necessarily need to invest towards increasing its customer base. The paper and pulp manufacturing industry is not flooded. International Paper only has two major competitors; Stora Enso Group and Asia Pulp and Paper (Lamberg, Ojala, Peltoniemi & Särkkä, 2012). With its large economies of scale and high-quality products (International Paper is leading in terms of product quality), International Paper has been able to effectively outpace its major competitors. Consequently, the company enjoys the largest market share in the paper and pulp industry. The large market share enjoyed by International Paper eliminates the need for the company to invest intensively in competitive strategies against its competitors (Lamberg, Ojala, Peltoniemi & Särkkä, 2012). As a result, internet marketing has never been an option for International Paper. To International Paper (IP), internet marketing is an extra investment that may only lead to an insignificant increase in sales.
Proposal for International Paper's Internet Marketing
Nevertheless, International Paper needs to make efforts to engage in internet marketing activities. Although small paper and pulp manufacturing companies do not appear to threaten the dominance of International Paper in the short run, their expansion will undoubtedly hurt the strategic markets of International Paper. Major competitors to International Paper are also developing strategies to increase their market share (Lamberg, Ojala, Peltoniemi & Särkkä, 2012). Consequently, International Paper faces the threat of a stiff competition in the near future. One way of managing the stiff competition – as earlier mentioned – is through internet marketing. International Paper should establish active internet marketing strategies. First, International Paper should develop a website in order to establish its visible online presence. The website should include all important information about the company and its products (Roberts & Zahay, 2012). A website will ensure that potential customers can easily access information about the company and its products. Second, International Paper should incorporate a blog into its website to enable the company to regularly share offers, news, and stories with customers. A blogging service is very appropriate in updating customers of any product developments. Most importantly, International Paper should share its website URL. International Paper should also take advantage of social media marketing. International Paper should open an official Facebook page to take advantage of the over 2 billion active Facebook users. Additionally, International Paper should create brand partnership facebook pages where it will be regularly updating potential customers through pictures, videos, and written posts. The company should take advantage of targeted posts and the hashtag to increase traffic to its website. Twitter is an inevitable social media site for International Paper. A twitter handle for the company should also be created with immediate effect. In fact, Twitter should be the central platform where content will be circulated from all the other social media platforms (Roberts & Zahay, 2012). Twitter tools such as followerwonk can be used in adding, and requesting re-follows. Tagging and RT influential content can also be used to increase the traffic and thus increase the awareness of the company products. The company should also create a YouTube channel through which special videos of company products can be streamed. A link to this channel should be available on all social media platform's bio in order to enhance product visibility. Short videos about the company products can be shared through Instagram and Vine. Hashtags should be incorporated in the video posts of new products and features to create a trending status (Roberts & Zahay, 2012). International Paper should also create an Amazon account through which it can advertise its products as well as process online transactions.
Question Two
Effective Use of Internet Marketing
The two best examples of effective use of internet marketing include Zappos and Airbnb. Zappos has invested heavily in online customer care. Social media campaigns conducted by Zappos mainly focus on what the customer wants and needs (Thomas & Housden, 2017). The company, therefore, focuses on generating content that that attracts and suits the need of the customers. This, Zappos has achieved by listening to the audience and plan its online marketing campaigns in a manner that addresses customer needs. Precisely, Zappos uses content marketing is its main internet marketing method. Having in mind that customers respond differently to different media, content marketing becomes a strategic way of attracting and retaining customers (Thomas & Housden, 2017). Zappos uses a content marketing plan that captures the attention of its customers at every moment. Zappos exactly knows what its customers want and gives them exactly that. Zappos, in its internet marketing campaigns, has employed pull marketing. It is through the use of pull tactics that the company is able to get the real facts about what the customers like. By acquiring the real facts about what the customers like, Zappos has been able to acquire a greater hold on user's interest. Pull tactics are very effective in maintaining a huge customer base by attracting and retaining customers to the company (Thomas & Housden, 2017).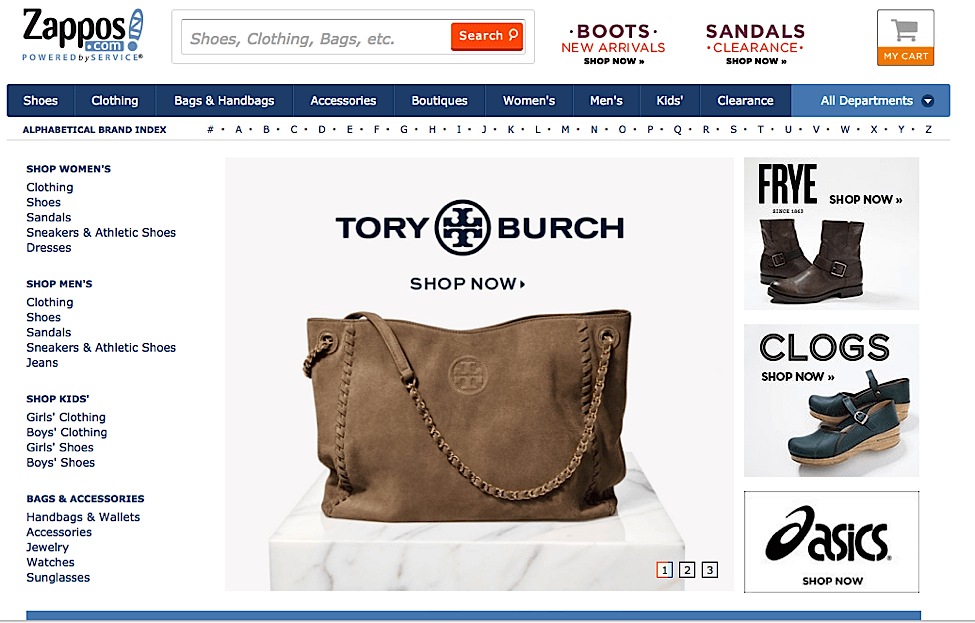 Figure 1: Content on Zappos Website
On the other hand, Airbnb focuses its digital marketing on user-generated images and videos on social media. In leveraging its success, Airbnb relies on social media marketing (Thomas & Housden, 2017). With its large traffic, social media has become very crucial in influencing the purchasing decisions of customers. Therefore, by investing in social media marketing, Airbnb directly increases its return on investment. Social media marketing helps in connecting large audiences and offer value (Thomas & Housden, 2017). It is through social media that large audiences of people can easily be engaged and brought to company websites where they can access the content of a company's products. Airbnb's marketing strategy focuses on getting hosts and travellers for its platform. Customer acquisition is basically the main purpose of Airbnb's internet marketing strategy. The company has active accounts on Facebook, Instagram, and Twitter where it regularly posts its attractive, humorous and compelling how-to videos and posts. These videos and posts are normally related to travel and hotel business. The content has, therefore, enabled Airbnb to get a greater hold on the user's interests.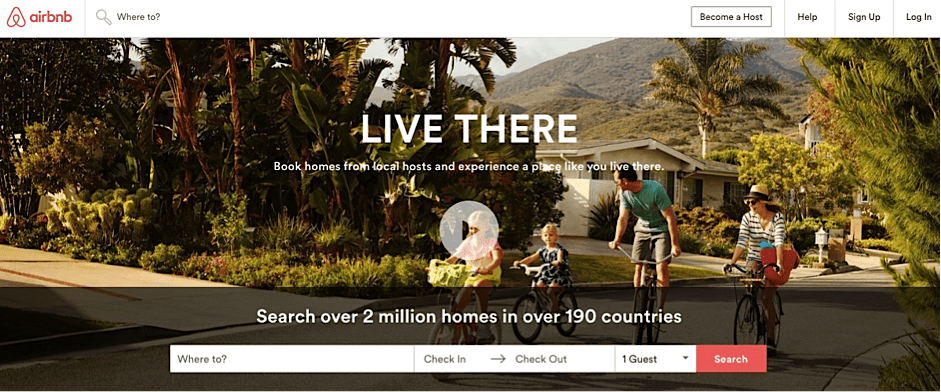 Figure 2: Featured Online Video on Airbnb Social Media Platform
References
Lamberg, J.-A., Ojala, J., Peltoniemi, M., & Särkkä, T. (2012). The Evolution of Global Paper Industry 1800¬–2050 [recursoelectrónico]: A Comparative Analysis. Paises Bajos: Springer Netherlands.Top of Form
In D'heur, M. (2015). Sustainable value chain management: Delivering sustainability through the core business. Cham: Springer.
International Paper. (2018). Internationalpaper.com. Retrieved 14 March 2018, from http://www.internationalpaper.com/company/about-international-paper
Roberts, M. L., & Zahay, D. L. (2012). Internet marketing: Integrating online and offline strategies. Mason, OH: South-Western Cengage Learning.
Siegel, C. F. (2006). Internet marketing: Foundations & applications. Boston [u.a.: Houghton Mifflin.
Thomas, B., & Housden, M. (2017). Direct and digital marketing in practice. London; New York, NY: Bloomsbury Business.
To order similar paper visit acemyhomeworks.com